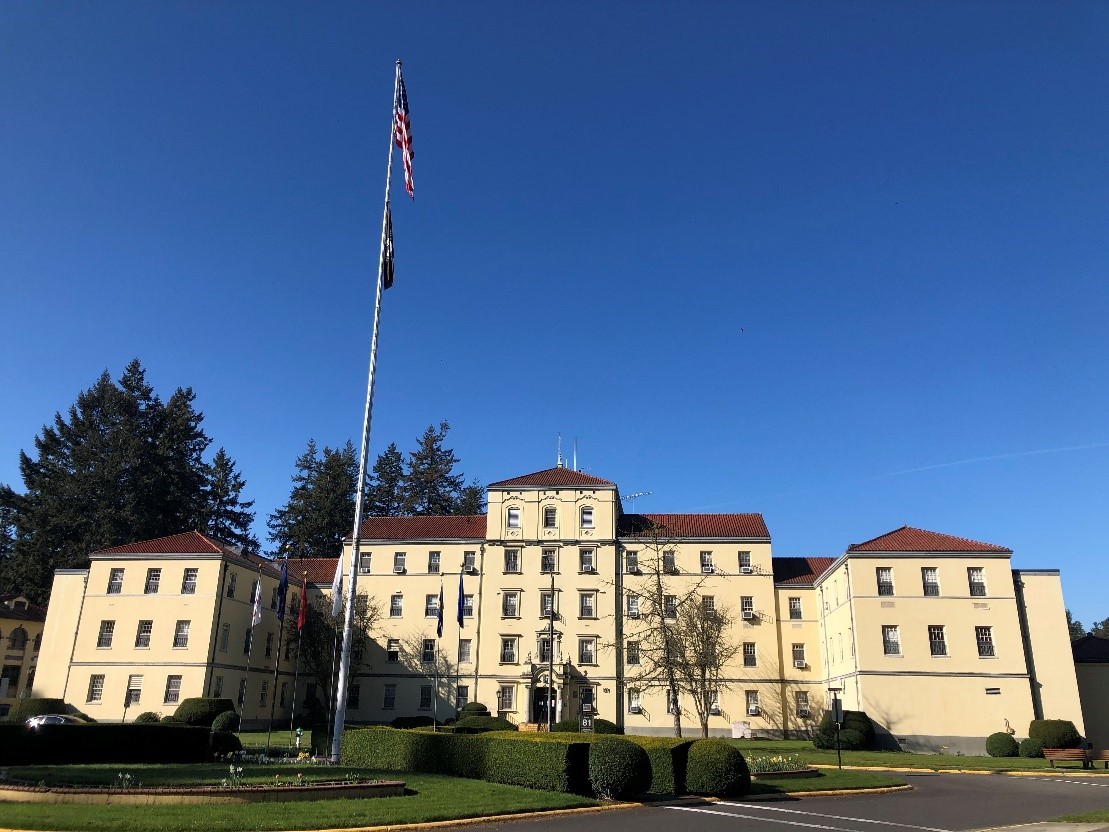 COST OF CONSTRUCTION $110,300,000
CLIENT EVALUATION
Quality  Outstanding
Schedule  Outstanding
Customer  Outstanding
Cost Control  Outstanding
Management  Outstanding
Safety  Outstanding
AMERICAN LAKE SEISMIC PROJECT BOOKS - BUILDINGS 81/81AC
(Puget Sound Health Care System – American Lake, WA)
The American Lake Veterans Campus, a division of the VAPSHCS, has slowly expanded throughout the century to meet the ongoing needs and primary care for
Veterans.
This project will seismically strengthen and renovate the 97,987 SF historic Primary Care facility (Building 81/81AC). The project will include structural and soft seismic upgrades. According to a previous study, Building 81/81AC is located in a high-risk seismic zone and the building has the capacity to hold a large number of people during a seismic event.
Due to the historical significance of the original building, a seismic evaluation was conducted to ensure the preservation of the building in the case of a seismic event. The evaluation determined that an extensive amount of structural retrofitting was required to bring the building into compliance with modern codes. In addition to seismic deficiencies, many violations of the Architectural Barriers Act (ABA) exist in Building 81/81AC, necessitating renovation.
As identified in the Project Management Plan (PMP), a number of the functions that currently are supported in Building 81/81AC will be moving to the new Building 201. The remaining functions, including additional programmed space related to increased patient visits, will be renovated in Building 81/81AC. This will be a complete renovation of the building that will occur concurrently with seismic upgrades. Because of the scale of the renovation, the clinical services supported by 81/81AC will be temporarily supported from other buildings on
campus.
Building 81/81AC, located along the shoreline of American Lake, contains Primary Care programming, including Radiology, Audiology, Mental Health Services, and various administrative spaces. Considered a Critical Facility, Building 81/81AC has a Risk Category of IV. In addition to the aforementioned seismic corrections, Building 81/81AC will receive a complete remodel to correct other deficiencies called out in previous FCAs. The necessary site and infrastructure improvements will bring Building 81/81AC into compliance with current VA design standards and building codes.
AMERICAN LAKE SEISMIC PROJECT BOOKS – BUILDINGS 81/81AC