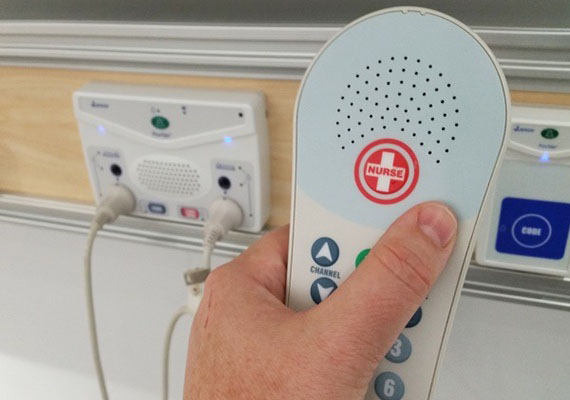 COST OF CONSTRUCTION $6,500,000
CLIENT EVALUATION
Quality  Very Good
Schedule  Very Good
Cost Control   Very Good
Management  Very Good
PORTLAND REPLACE NURSE CALL SYSTEM
(VA Portland Health Care System, Portland, OR & Vancouver, WA)
Members of the Spees Design Build Team provided design services for the demolition and removal of the outdated, copper-loop Rauland-Borg Reponder IV and 4000 Nurse Call systems for the VA Portland Health Care System, servicing 7 buildings spanning both the Portland, OR (Buildings 100, 101, 103, and 104) and Vancouver, WA (Buildings 1 and 11) campuses. Our design team's new Nurse Call system incorporates a new networked, internet protocol- (IP) based system integrated with CERNER electronic health records and required DOD security clearance, meeting current VA healthcare specifications. The system design also allows for end-user adaptability, including incremental growth, expansion, and/or replacement over time.
The new Nurse Call system is hardwired from headend to end use device and can send calls to wireless devices carried by Staff. As previously mentioned, the system can communicate with CERNER or other medical records software and provides a secure link to the VAMC telecommunications network, significantly improving security. It also can continue to function in isolation should communication with the VAMC telecommunications network be interrupted.
This system spans nurse call master stations, patient rooms, and patient toilet and bath call cords, and integrates staff control screens inside patient room doors, dome lights outside of patient rooms and corridor wayfinding lights. To ensure the continued operation of the facilities during construction, the Spees Design Build team incorporated a detailed phasing plan to accommodate the simultaneous use of the old Code Blue system during the new system installation.
Incorporating a room-by-room, ward-by-ward approach, our team was able to provide a cost-effective solution to avoid expensive relocation to swing-space or temporary facilities, while still meeting the VA's expected construction schedule timeframe.
PORTLAND REPLACE NURSE CALL SYSTEM