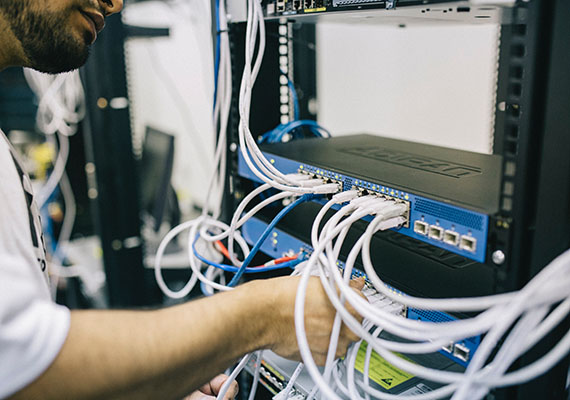 COST OF CONSTRUCTION $29,900,000
CLIENT EVALUATION
Quality Outstanding
Schedule Outstanding
Customer Outstanding
Cost Control Outstanding
Management Outstanding
ST. LOUIS TELCOMM INFRASTRUCTURE UPGRADES
(St. Louis VA Medical Center - Jefferson Barracks, St. Louis, MO)
The overall intent of this project is to upgrade and improve the EHRM Infrastructure of the St. Louis VA Medical Center campus in support of the Electronic Health Record Modernization initiative. This campus-wide project included work in 22 buildings across multiple departments, including critical departments, and 53 Telecommunications Rooms
(TRs). T More than 9,000 linear feet of trenching and ductbank and 9,204 CAT 6A drops were installed during the course of this accelerated project schedule.
SDB met the timeline through clear and consistent communication with the Station. The A/E held a minimum of one weekly meeting per week. Most weeks the PM provided updates and status to the COR two to three times a week. Based upon our analysis of site conditions as well as feedback and commentary from a number of VA Facilities staff members, it was understood that the campus' electrical services were deficient in a number of ways.
Design included upgraded power distribution to several buildings' main distribution panels to bring older buildings up to modern code. All new TRs received two new panels to support A and B side power, providing the VA with reliable redundant power. As part of the upgrades, all telecommunications cabling rated below Category 6 was replaced with Category 6a cabling.
The existing power serving the TR was mostly original to the building construction, utilizing 120/208V, 3PH, 4W panelboards with far less capacity than necessary. This posed a significant challenge to incorporating the new VA OIT requirements, save for the few recently constructed TR rooms.
Corridors were modified to create new access to TRs. All modified corridors were adjusted/ modified to maintain existing appearance. The A/E integrated scans of existing conditions into the architectural plans to ensure current appearances and adjustments are clear to the contractor and ensure a complete understanding of the scope of work.
ST. LOUIS TELCOMM INFRASTRUCTURE UPGRADES