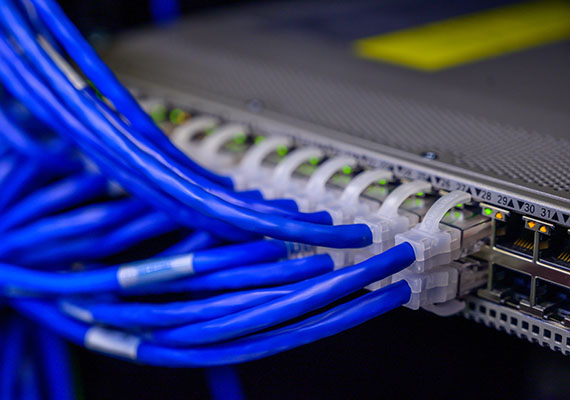 COST OF CONSTRUCTION $11,800,000
CLIENT EVALUATION
QUALITY  Exceptional
SCHEDULE Very Good
COST CONTROL Exceptional
MANAGEMENT Very Good
SEATTLE DATA CENTER & TELCOMM INFRASTRUCTURE UPGRADES
(VA Puget Sound Health Care System Seattle, WA)
The Spees Design Build Team renovated the existing Data Center and 38 IT closets on the Seattle campus of the VA Puget Sound Health Care System per VA Infrastructure Standards for Telecommunications Spaces. Based upon our analysis of these conditions as well as feedback and commentary from several VA Facilities staff members, it was understood that the Data Centers electrical services were deficient in several ways.
One of the biggest challenges facing the Spees Design team was how to keep an existing Data Center fully operational while under an extensive remodel/expansion. By focusing on Phasing and working closely with the Contractors, the expansion of the Data Center was completed without any downtime or contamination of existing systems due to construction activities.
Design included new chilled water air conditioning system to the Data Center in addition to existing 2 24-ton CRAC units. Design and expansion of the 31 IT closets included equipment racks, patch panels, grounding, and new cabling as necessary. As part of the upgrades, all telecommunications cabling rated below Category 6 was replaced with Category 6a cabling.
The existing power serving the Telecommunications Rooms (TR) was mostly original to the building construction, utilizing 120/208V, 3PH, 4W panelboards with far less capacity than necessary. This posed a significant challenge to incorporating the new VA OIT requirements, save for the few recently constructed TR rooms in Building 1.
We provided 120V dedicated power outlets for each active rack mounted equipment and other support equipment that may have been installed in each TR. The outlet configurations were standardized with 2-pole, 3-wire NEMA 5-20R, 120V double duplex receptacles. Outlets provided for active racks were mounted at bottom of vertical wire managers for ease of access. Also, we provided a convenience outlet on all four walls for each TR room. New TR Panels – A 100A, 208Y/208V,3PH, 4W panelboard was provided in each TR room, and fed from the Critical System power supply. Where TR rooms were stacked one panelboard would sub-feed the above room. It was anticipated that approximately 25 new panelboards were to be provided. The existing Critical System distribution panelboards that were used to serve new panelboards were metered for a minimum of 30-days to ensure capacity.
The existing Data Center, generally described as Building 70, was provided with normal power from the campus medium voltage distribution system via an existing primary vault and Substation. Emergency power for Building 70 was derived from an existing 350kW generator that fed a generator distribution panel labeled XDP located in the nearby Building 28 (aka "Telephone Building"). A 300A feeder ran from panel XDP to an ATS in Building 70 which fed distribution equipment power for a variety of loads including the Data Center's 80kW UPS along with supporting AC equipment and other loads.
SEATTLE DATA CENTER & TELCOMM INFRASTRUCTURE UPGRADES